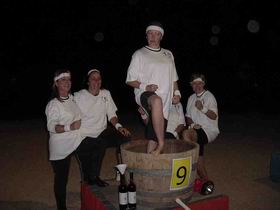 Coonawarra is very event orientated, so travellers and locals alike, have the opportunity to experience the spirit and tradition of wine making in the region. The Coonawarra Vignerons Association plays host to several exciting events throughout the year.
The year starts off with a bang at the Coonawarra Vignerons Cup racing meet. It is on the second Thursday of January; so if you are a lover of horse racing and enjoy your wines, the Coonawarra Cup is a great event to start off the year.
Every April, during harvest season, Coonawarra lights up for its vintage festival; Coonawarra After Dark.
In May the arts flourish when artists from around Australia and the world come together for the Penola Coonawarra Arts Festival; more than a week of concerts, art, wine, cuisine and culture.
July is the month to discover those hard to find treasures in the cellars, hidden away from the general public. Coonawarra Cellar Dwellers allows lovers of wine to taste and buy rare and sometimes hard-to-find Coonawarra wines.
October is when the winemakers submit their 'best' barrel of Cabernet for the Barrel Series Auction (a charity event), supported by an array of 'Cellarbrations' by individual wineries held as part of the Coonawarra Cabernet Celebration weekend. It's three days of fun, food and fantastic wines.
For visitors there are excellent cafes and restaurants in the region showcasing local produce and accommodation services from luxury retreats to self-contained cottages.