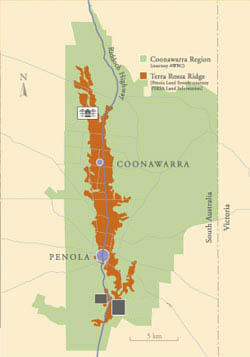 The Coonawarra Wine Region is particularly well known for producing world class red wines, especially Cabernet Sauvignon. Coonawarra's secret lies in the combination of the rich red terra rossa soil, limestone, pure underground water and a long cool ripening season for the grapes.
Coonawarra lies within South Australia's Limestone Coast Zone (south-east South Australia) is named from a local Aboriginal word meaning 'honeysuckle'. It is approximately 375 kilometres from Adelaide and slightly further from Melbourne. Two main towns; Coonawarra and Penola service the area.
With an average daily winter temperature 9.8 C and an average summer daily temperature is just under 20 degrees C – Coonawarra is perfect for grape growing and wine drinking!
The Soil
The cigar-shaped strip of 'terra rossa' (red earth) measures 12km long and 2km wide. It boasts of some of the most sought-after vineyard soil in Australia and is all but taken up by vineyards. When the sun hits the soil, it almost glows a vibrant rusty red. It's not just the soil's colour that makes it famous – This fertile topsoil covers a bedrock of porous limestone which assists with the winter drainage and summer moisture retention. This is why Coonawarra is one of the greatest regions in the world for growing Cabernet Sauvignon. Coonawarra soil produces low-yielding and intensely flavoured grapes, helped by the cool to moderate climate of long dry autumn days and cool nights.
Grape Varieties
Coonawarra has become synonymous with Cabernet Sauvignon. It's the star performer on the terra rossa, however, winemaking has expanded over time till today you have generations of experience producing wonderful Shiraz, Petit Verdot, Pinot Noir, Malbec and Merlot as well as Sauvignon Blanc, Chardonnay, Riesling and Semillon.
History
Construction of the first winery in Coonawarra was commenced by John Riddoch in 1896. Riddoch was primarily interested in sheep, however he planted vines that did well and by 1897 he had an operational winery.
The next dynasty to forge ahead with wine production was the Redman family. In 1901, Bill Redman, a young fourteen year old, started working in John Riddoch's cellar. The Redman label came into its own in the 1950s under the name Rouge Homme. Today the label is produced by the fourth generation Redman.
Samuel Wynn also was impressed with the region in the 1950s. He  bought the Riddoch winery in 1951 and renamed it  Wynns Coonawarra Estate. Since that time the region has seen investment by large and small companies, which has led to expansion, securing Coonawarra's status as a great wine region.